A Home Office Organizing Project for the Books, Literally!
How many people do you know who work from home today? I bet you can think of at least one or two! More than 50% of my friends work for themselves at home or at least have the option to take on the daily grind from the comfort of their own couch. And if you can believe it, according to Business Insider, 40% of Americans will be freelancers by 2020! With the number of people working from home on the rise today, the need for a calm and orderly area to focus on their jobs is growing by the masses.
Of course, I'm part of that statistic and after setting up a home office for Shelfie, I know first-hand the challenges people face when figuring out how to create a space where they can thrive creatively while growing a successful business from home.
Speaking of creative and successful, meet a near and dear friend of mine, Rupa Mehta! Rupa is the Founder of NaliniKIDS, a non-profit organization aimed at teaching children physical and emotional wellness and Nalini Method, a fitness studio (the original inspiration behind NaliniKIDS and my FAVORITE fitness class in the city). As a wellness expert, Rupa writes and publishes books educating adults and children on how to be healthier and happier. So far, she's written over 30 books, some of which have been implemented in several New York City Public Schools!
Rupa lives in a 2 BR apartment in Manhattan with her husband who also works from home. For years, the second bedroom primarily served as a studio where Rupa taught private fitness classes and shot video content for her YouTube channel. She also kept a futon in the room for guests along with luggage, old paperwork, memories and art supplies. But once NaliniKIDS took off and Rupa's team grew, the bedroom quickly became a storage space for her event materials, office supplies, and 25,000 books in boxes stacked to the ceiling leaving the dining room/living room area as the dedicated common workspace for both Rupa and her husband.
While they enjoyed sharing a workspace, conducting meetings for their respective businesses became tricky. As you can imagine, schedules collided, voices on calls traveled and the area became quite crowded. Rupa decided it was time to officially give NaliniKIDS a real home to hold meetings, create a co-working space for her employees and storage for all her books and supplies but she could no longer fully open the door to the spare bedroom. Luckily, Shelfie is a dedicated Nalini Method student so Rupa knew just who to call and I was thrilled and honored to tackle the challenge!
Before I came in, Rupa and her incredible team spent several hours purging, recycling and donating older copies of books not being used. Afterwards, Rupa and I worked together to unload the remaining books in use alongside all the other stuff in the room. The end result is a light, airy and modern home office with storage space and room for meetings and multiple NaliniKIDS employees to work at once. Below are some tips you can follow to create your own organized home office!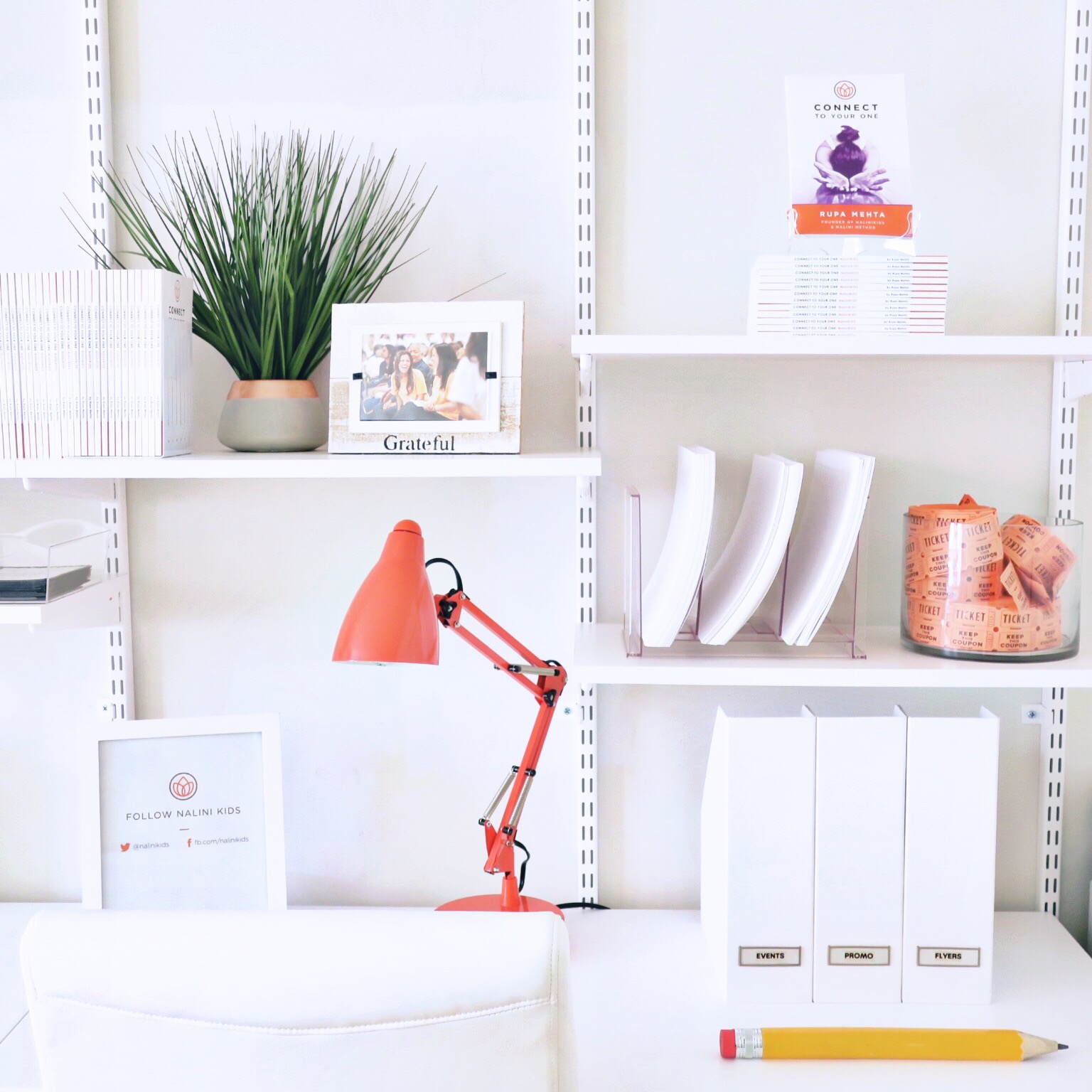 BUY MATCHING STORAGE PRODUCTS
Buying multiples of the same storage solution eliminates visual clutter immediately so we purchased three of the white magazine files boxes to store promotional documents and flyers. And because I can never resist acrylic, I chose the acrylic letter sorter to organize different types of printer paper. White and clear are a match made in heaven.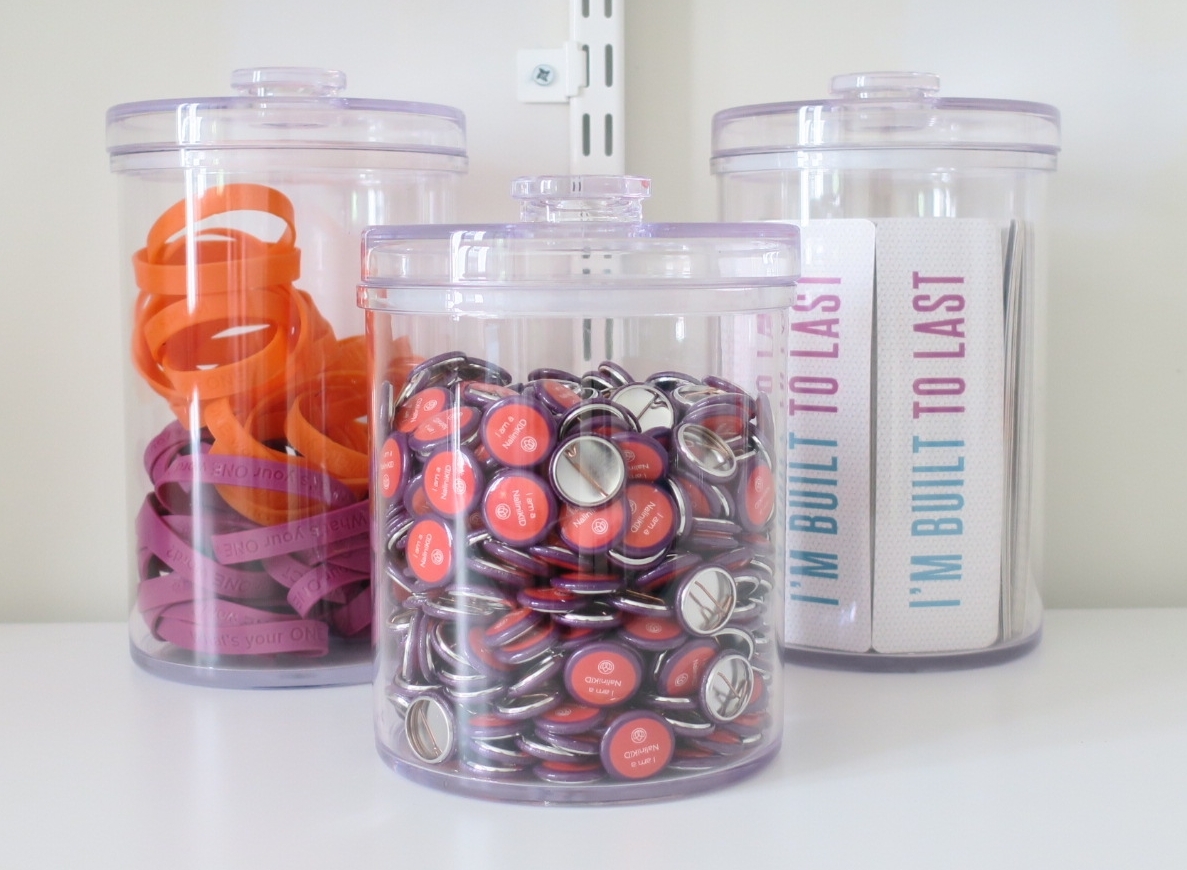 Clear jars and containers store grab-and-go items like wristbands, bookmarks and pins that Rupa and her team need quick and easy access to when they prepare for events and meetings. I love using clear storage for multiples of one item. Clear storage allows you to see what is inside (obviously) and helps add color to a space while remaining functional.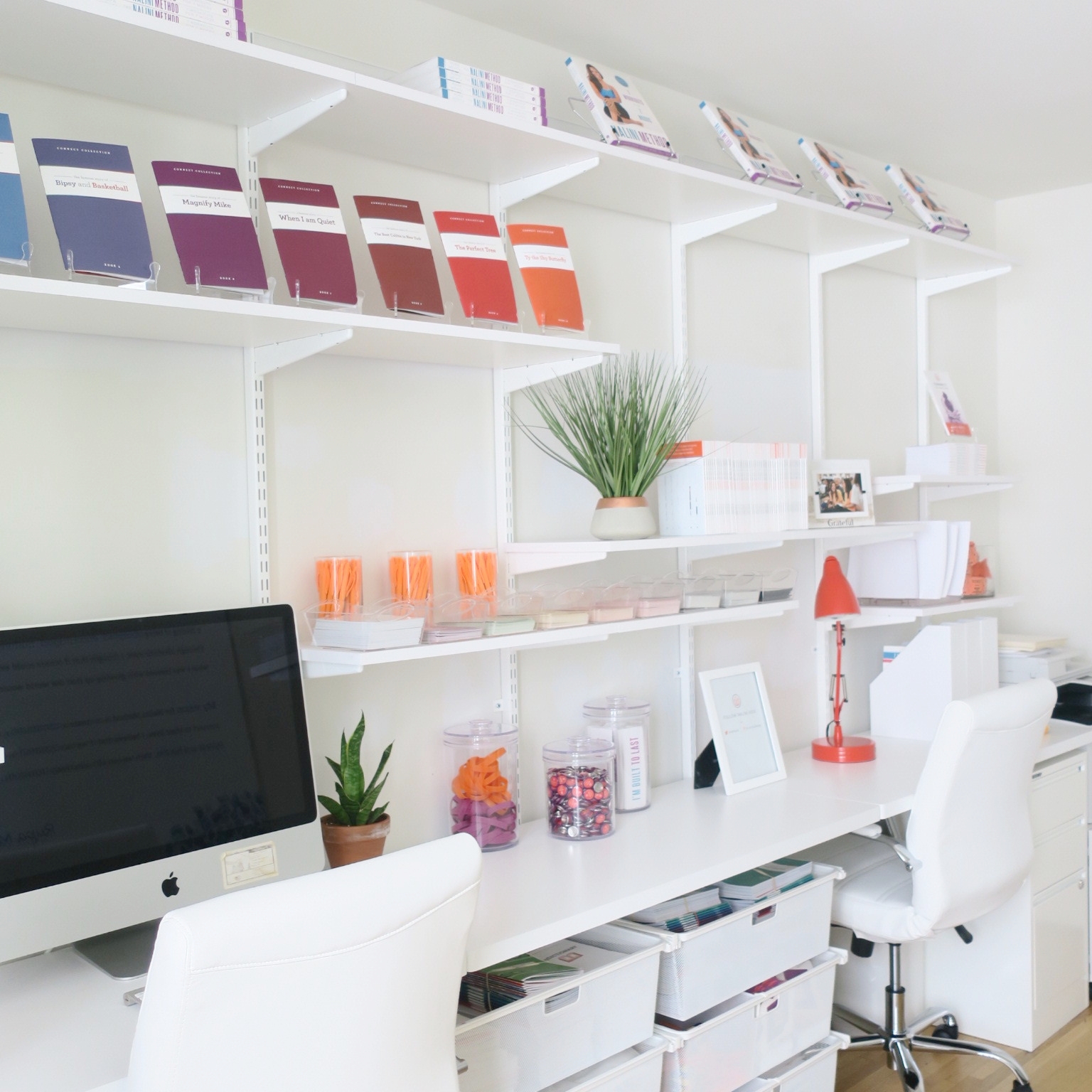 I installed an ELFA desktop and shelving to create one continuous co-working desk area where two (or more) people can sit and work at the same time. With an open shelving solution that is hung on the wall and spans the width of the room, we freed up tons of floor space. Drawers and file cabinets were used for backup office supplies, files and bulk paper.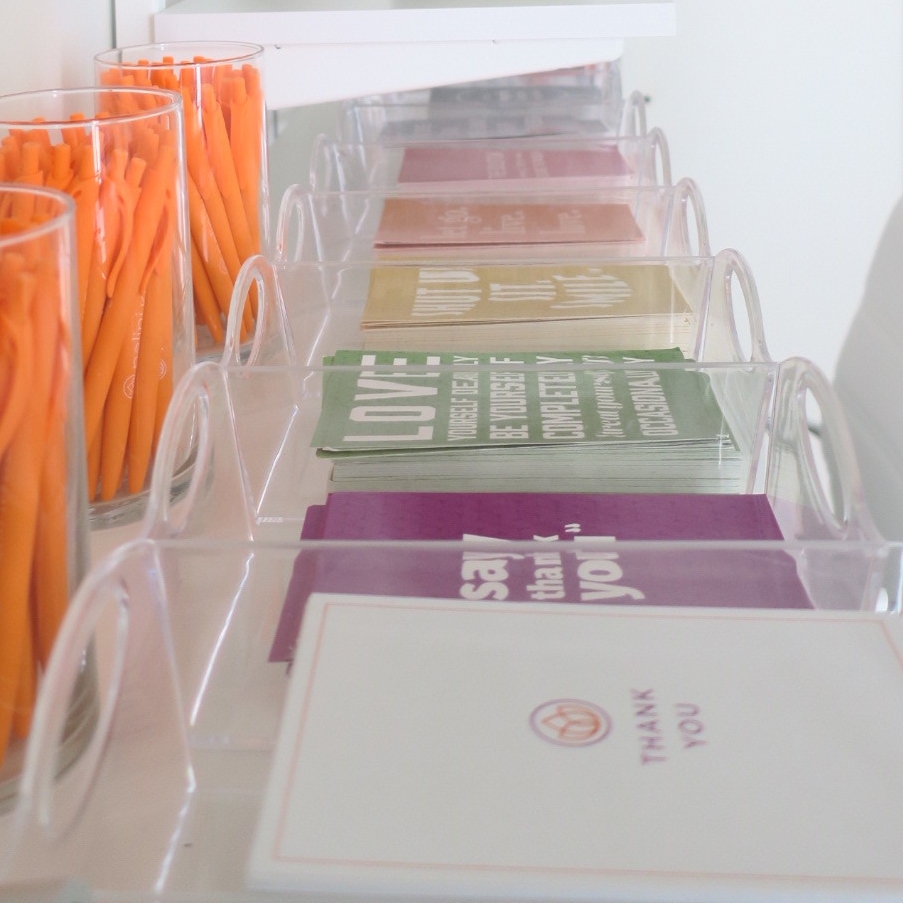 I found these postcards all mixed together in a cardboard box so I dumped them out, organized by color and gave each one a home in the adorable clear trays. I love how the post cards are all different colors because it helped decorate the space. Sing with me now…"can you paint with all the colors of the wind?" Just call me Pocahontas.
Not to toot my own horn but, toot toot! The rainbow book display is my favorite part of this space! I used tiny acrylic plate stands to display each volume of this NaliniKIDS collection. Rupa's other book collection for Nalini Method was stored in the Copper basket you see here and along the staggered shelves both horizontally and vertically to add height variation in effort to fill out the open shelving while keeping the books easily accessible. Displaying books on open shelving can add a lot of character to a space and I love when all the books are the same size, shape and color because it keeps visual clutter to a minimum. The remaining collections are stored in the drawers and the closet. And then, there's me…in the screen. Hi!!
CONSIDER SIZE - IT MATTERS
I used White wire baskets for larger items needing a home (smaller items will fall through the grid). In Rupa's home office, I filled the baskets with NaliniKIDS nylon bags, dumbbells and artwork that some of the NaliniKIDS kids actually made. She can see where everything lives and the bags are accessible for meetings and events. And once again, adds pops of color to the room.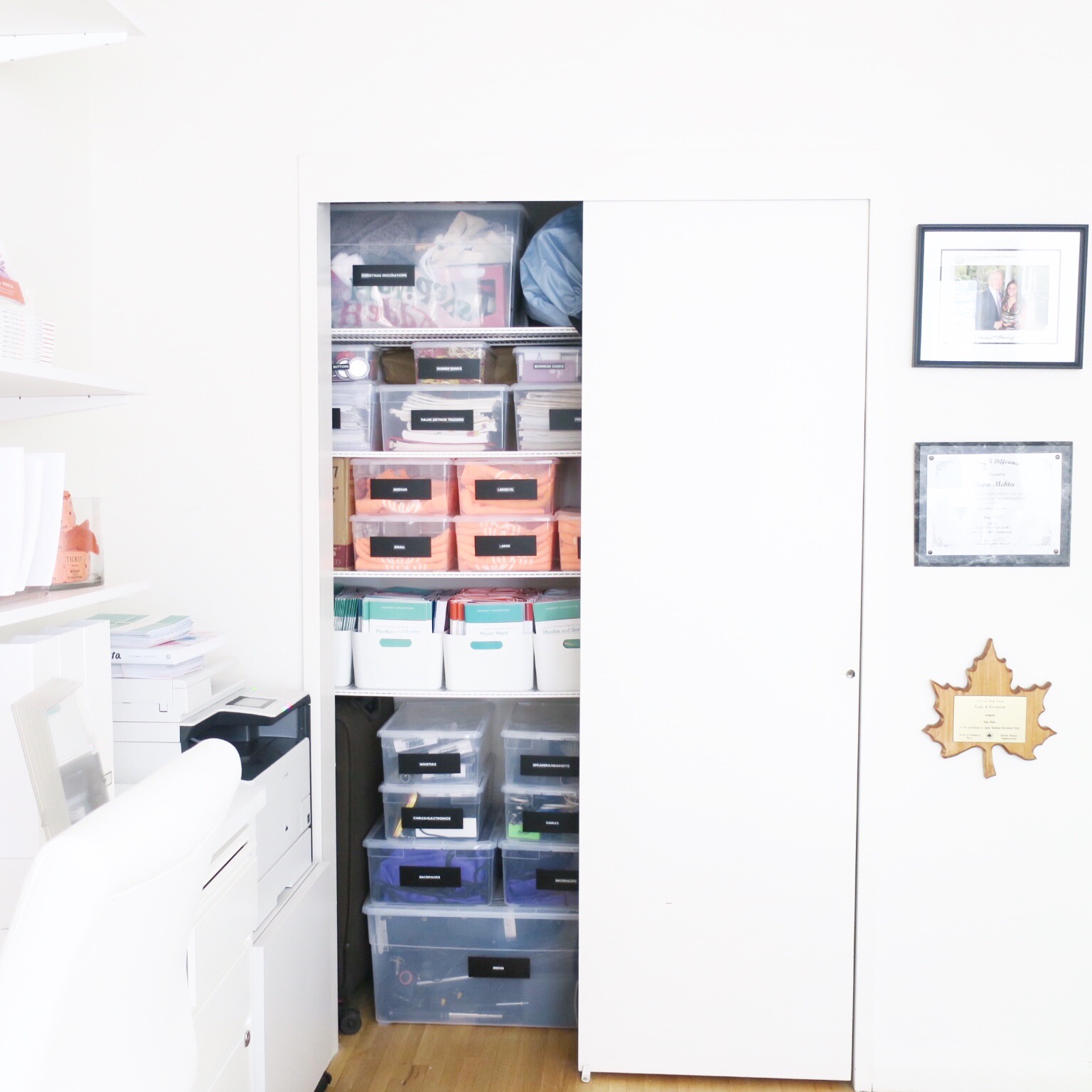 HIDE BULK BEHIND CLOSED DOORS
Inside the closet I brought in my favorite plastic bins that come in multiple shapes and sizes and are extremely affordable. No matter the size or shape you use, they stack nicely and look clean and streamlined. The bins hold extra t-shirts, less frequently used products and…more books!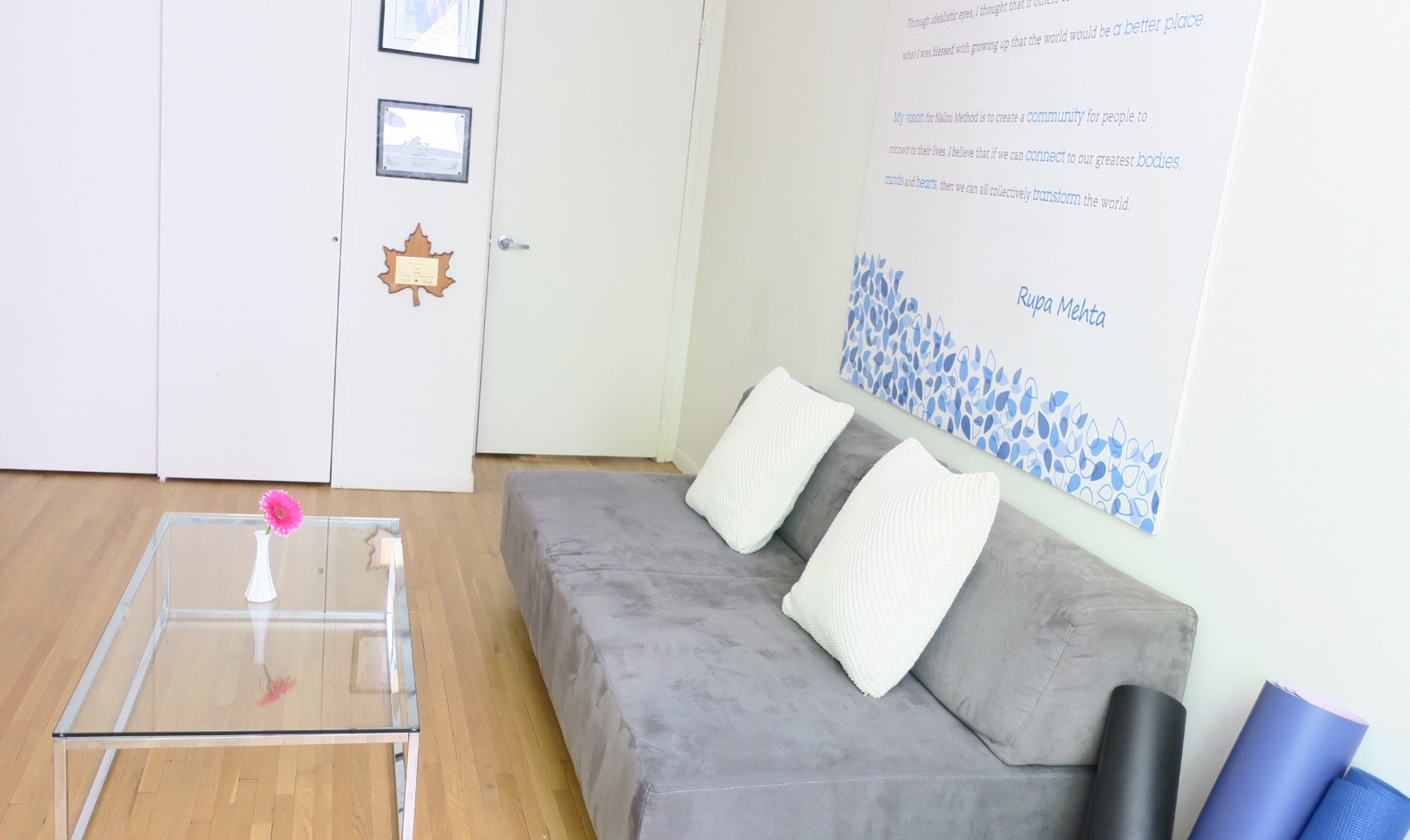 The futon fit perfectly into the space carving out a meeting spot for NaliniKIDS employees. It also adds a cozy feeling to a very modern space.
BOOKENDS ARE YOUR FRIENDS
Bookends are used to hold books upright on the shelves. I love these bookends from The Container Store because they have a slim profile and create a floating look. You can't even see them!
The white document box matches the magazine file boxes we used earlier and this amazing Copper basket I found at Home Goods holds extra copies of books. The open basket makes it easy for Rupa and her team to grab books on the go and still keeps things stylish.